Wild Card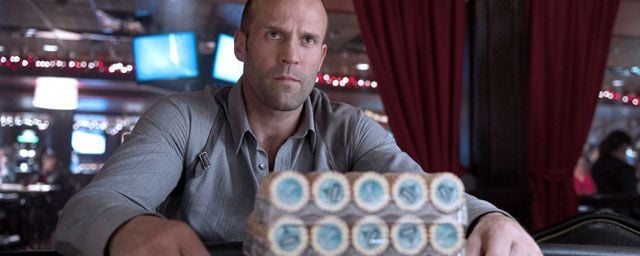 "Wild Card" is the kind of tough guy tale that Paul Newman would have breezed through in the '70s. Perhaps screenwriter William Goldman ("Butch Cassidy and the Sundance Kid") should have penned the project for him back then. Burt Reynolds took an unsuccessful swing at the film's lead role in 1986 (when the film was called "Heat"), and it recently landed in the hands of Jason Statham.
Statham stars as Nick Wild, a bodyguard working under the bright lights of Las Vegas. While the high-stakes hustlers he chaperones throw money like confetti, Nick gambles with his life, confronting mobsters and his addictive demons.
He's the kind of character Newman knew well — an anti-hero with a bruised ego behind his bravado. Whether he was playing pool shark Fast Eddie or gunslinger Butch Cassidy, Newman thinly veiled his characters' vulnerability. Despite playing tough guys, he knew that strength sometimes lies in showing weakness. You can always see the past haunting his characters behind their cocky eyes.
The problem with Statham is that he's all machismo. He never lets his guard down and makes you feel or fear for him. This is supposed to be a movie about a man with a rocky past at the end of his rope. But he doesn't seem to struggle all that much. For example, while exacting revenge upon the thugs that raped his former flame, he cuts one man's head open with a credit card.
"Wild Card" is a Statham action vehicle that drives through a Newman-esque character study. The action scenes feel out of place, as if director Simon West ("Con Air," "The Expendables 2") added them in red pen while marking up Goldman's screenplay. Where's the drama in a story of a troubled man who easily crushes those in his way?
If Statham wants to reveal his range, which reportedly was his goal with this project, he needs to unclench his fists and show some fragile humanity beneath his hard head.
In the end, "Wild Card" isn't bad. It clips along at a brisk pace and keeps a smile on your face with cool neo-noir dialogue. "No one really likes Las Vegas. It's just a creepy virus people catch," Statham quips in his Cockney brogue.
Vegas is even more vibrant on Blu-ray. In addition to the vivid visuals, the video release offers insightful looks at the script and characters. But don't be fooled; this is a B-movie barely hidden in an A-list package. However, perhaps Statham is starting on a path toward shedding even more of his bland popcorn wrapping.
Film: 3 Yaps
Extras: 4 Yaps
Please enter the url to a YouTube video.
Comments
comments